Tampa Mold Damage Repair
Tampa Mold Damage Repair
Mold Damage Remediation
Mold Damage Repair Service
Mold Damage Remedy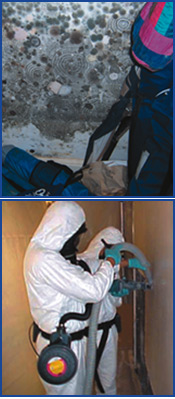 A water damage situation offers the opportunity for mold spores that are typically present to multiply. Organic materials found inside a building, such as wood, paper and drywall provide food sources for mold to grow. Our Tampa Mold Damage Repair Team handles equipment such as Hepa vacuums, negative air machines, and respirators to effectively perform all mold remediation services. Our employees are certified & trained in mold remediation and mitigation protocol. We provide the effective decontamination of contents, proper placement of containment barriers, interpret the environmentalist's protocols, and perform the mold removal.
We clean structural materials to pass clearance tests the first time, thereby avoiding costly delays! Our Tampa mold damage repair service team is available 24 hours a day 7 days a week servicing the Tampa and Tampa Bay areas. Our Tampa office has the capability of servicing all your mold damage and water damage needs.
Please visit our Reconstruction and Fire Damage pages to learn about some of our other services or visit our About Us or Our Services pages to learn more about RestoreALL. Feel free to Contact us 24 hours a day.
Serving:
Tampa, Tampa Bay, St. Petersburg, Clearwater, Lakeland, Zephyrhills, Palm, Harbor, Town 'N' Country, New Port Richey, Tarpon Springs, Land O' Lakes, Wesley Chapel
St Petersburg Mold Damage Repair
Clearwater Mold Damage Repair
Call Or Email Us For A Free Consultation
813.882.4921 | 888.969.2379