Flood Damage Restoration Tampa
Flood Damage Restoration In Tampa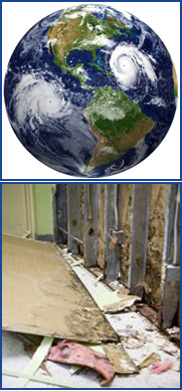 Did you know Tampa gets ten inches more rainfall per year then the average U.S. city?
Often this rainfall is accompanied by lightning and high winds and can last for days, even weeks at times. Throughout the end of July and the beginning of August 2015, Tampa experienced record rainfall with the mayor of the city, Bob Buckhorn, urging residents to stay off the roads due to heavy flooding, "We received record amounts of rainfall over the last two days," he said. "There is no way in the world that any system could've accumulated the amount of rainfall that we got in that short period of time."
Disabled vehicles and flooded home and streets were the norm. The mayor went on describing the disaster,  "In terms of the amount of water we push through our waste water system… on a normal day we move 60 million gallons. In the last 24 hours, 155 million gallons of water has moved through our system, (stressing it.)"
Many residents of Tampa found themselves caught in the middle of the flood. Low lying areas were absolutely saturated. Streets were turned into small rivers, festooned with disabled vehicles and debris. The city's drainage system was overwhelmed as many homes and businesses succumbed to the rising waters.
Unfortunately for these people the water will damage their property and potentially allow mold to begin growing. It is critical they begin the flood damage restoration process by having the water extracted from their homes and businesses immediately.
Why Acting Quickly Matters
Secondary damage from flooding can have a major impact on the structural integrity of your home or business as well as increase the cost of the restoration process. With all the moisture in the home molds can begin to grow. Spores spread through the air and will create new colonies. All they need is moisture and anything organic to live on, from paper to drywall to wood and even paint. The longer mold is allowed to grow the greater the health risk and cost for mold remediation.
RestoreALL of Tampa are Flood Damage Restoration specialists.
A fast response to flood damage is crucial for stopping secondary damage caused to your home or business. RestoreALL has experienced, trained technicians that can begin the process of drying out your residence or business. Since severe storms and heavy flooding can happen at any time we provide 24 hour emergency service for flood and water damage. RestoreALL's flood damage restoration team has modern equipment and the resources to handle any flood disaster and water damage resulting from it. Our Tampa flood damage restoration team can also help with insurance claims assistance.
Call Or Email Us For A Free Consultation
813.882.4921 | 888.969.2379
Tampa, Tampa Bay, St. Petersburg, Clearwater, Lakeland, Zephyrhills, Palm, Harbor, Town 'N' Country, New Port Richey, Tarpon Springs, Land O' Lakes, Wesley Chapel