About Us
About Us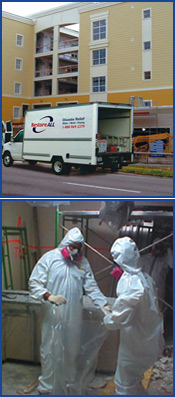 At RestoreALL, our goal is to provide superior mitigation, remediation, restoration, reconstruction and cleaning services. We do this by utilizing the latest technology and equipment providing skilled tradesmen, exceptional employees and excellent customer service to give the kind of service that we as customers expect to receive.
Our company provides services to individuals and businesses in the private and public sectors. In providing remediation and reconstruction services to home owners, the construction industry, and commercial properties, we address the specific issues present in each project.
RestoreALL has provided restoration, cleaning & drying services since 1990. As a fully licensed & insured General Contractor, we provide 24-hour Emergency Response and Disaster Restoration Services for all types of damage. We perform repairs on both commercial & residential properties, manage all phases of the project including; emergency service, inspecting damages, estimating repairs and complete restoration of structure and contents.
RestoreALL is dedicated to giving home and business owners a complete one-stop solution in returning their property to a pre-loss condition. Our capabilities allow us to take on virtually any water damage, fire damage or reconstruction repair job.
We oversee each job to ensure that all parties are working together in unison to meet your priorities and expectations.The end result: Restoring your home or business and ensuring your health and safety.
Call Or Email Us For A Free Consultation
813.882.4921 | 888.969.2379
Serving:
Tampa, Tampa Bay, St. Petersburg, Clearwater, Lakeland, Zephyrhills, Palm, Harbor, Town 'N' Country, New Port Richey, Tarpon Springs, Land O' Lakes, Wesley Chapel
Additional links:
Tampa Water Damage Repair | Tampa Mold Damage Repair | Tampa Fire Damage Repair | Tampa Smoke Damage Repair | Tampa Wind Damage Repair
St Petersburg Water Damage Repair | St Petersburg Mold Damage Repair | St Petersburg Fire Damage Repair | | St Petersburg Smoke Damage Repair | St Petersburg Wind Damage Repair
Clearwater Water Damage Repair | Clearwater Mold Damage Repair | Clearwater Fire Damage Repair | Clearwater Smoke Damage Repair | Clearwater Wind Damage Repair