6 must-have tips for selecting the right floor tile.
6 must-have tips for selecting the right floor tile.
If you've already selected your backsplash and your countertops and worked your way to your kitchen cabinets then now you want to know what kind of tile flooring should you use when remodeling the kitchen of your Tampa home.
Well, for starters there are a lot of different tiles you can use and it all depends on how you want to pull it all together. The key here is to consider the totality of the design elements you want to achieve.
Shade Variances
V4 Tile Means A Lot Of Shade Variance
A V4 shade variance means there will be a lot of shades in the same tile. This means you'll get a more "relaxed" and "rustic" look to your floor. Conversely if you are looking for a more modern floor A V1 shade variance has very little shades in the same tile.
V1 Tile Means A Minimal Amount Of Shade Variance
V1 tile is nearly monochromatic and all the tiles will be nearly equal in shade so there will not be very much change in color across the entire floor. Shade variances of tile is very important to consider when designing your kitchen floor.
Size of the grout joint & edge detail
Chiseled Edge Tile
If every edge of the tile has a chiseled edge detail then you're going to see each and every tile and the edge of every tile exacerbated by this detail. Chiseled edge tiles vary slightly from each production run and require wider grout joints to align the tile during installation and produce a more rustic, raw look.
Rectified Tile
On the other end of this spectrum are Rectified tiles. Rectified tiles are uniform and precise in size because they are mechanically finished during the manufacturing process. Each tile is grinded to a consistent dimension and require less space in grout joints. Combined with a low shade variation these narrow grout joints produce a seamless continuity which produce a modern look coveted by many designers. If a modern, smooth and polished look is what you're after then Rectified tile is for you.
Durability & slip resistance
In a kitchen it is important to remember the tile will have food, oil, vinegar, bleaches and other harsh chemicals as well as objects dropped on them as well as considerable foot traffic. It's understandable that when it comes to kitchen tile you will want something that is going to be food safe, easy to clean, slip resistant and durable.
Tile ratings
Not all ceramic and porcelain tile is created equal. Some are best for decorative applications like on walls while others can take heavy foot traffic. The Porcelain Enamel Institute rates tiles according to an industry accepted standard and tell us what applications a certain tile is best suited for in the home. This rating is known as a PEI rating. This rating is based on a tile's relative hardness and its ability to stand up to wear and percentage of water it absorbs.
The PEI ratings are:
Class I – No foot traffic. These tiles are for wall decoration purposes only.
Class II – Light traffic. Interior residential and commercial wall applications. These are for areas where little abrasion occurs, such as bathrooms.
Class III – Light to moderate traffic. Use these in residential settings with normal foot traffic. They are also ideal for countertops and walls.
Class IV – Moderate to heavy traffic. These tiles are acceptable for all home use in addition to medium commercial or light institutional use.
Class V – Heavy to extra heavy traffic. Approved tile for all residential applications, heavy commercial work and institutional foot traffic.
Water absorption
The amount of water a tile absorbs is determined by its porosity ratings, which essentially measure the amount of air pockets to solid material in a tile. These air pockets absorb water so the denser the tile the less water it absorbs. This ratio of air pockets to solids is paramount when deciding on which tile to choose when remodeling your kitchen in your Tampa home since tile in kitchens and baths need to be impervious to water absorbtion. Tile porosity is classified as such:
Impervious: Lowest absorption. Suitable for all interior and exterior uses.
Vitreous: Low absorbtion. Suitable for outdoor use and for kitchens and bathrooms.
Semivitreous: Moderate absorption. Not suitable for outdoor use or kitchens and bathrooms.
Nonvitreous: High absorption. Unsuitable for rooms with exposure to moisture.
Use this chart to better understand the various types of tile and recommended uses.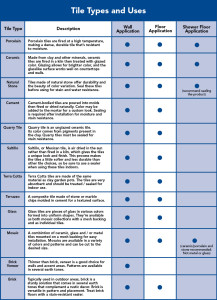 Slip resistance
A tile's natural resistance to slip is deduced by the amount of force is required to move an object across the tile divided by its weight. This is known in the tile industry as the Coefficient Of Friction value or C.O.F.
A C.O.F. greater than .50 is required for standard residential applications.
We are always here to help. If you would like a free consultation
then call or email us today.
813.882.4921 | 888.969.2379
Serving:
Tampa, Tampa Bay, St. Petersburg, Clearwater, Lakeland, Zephyrhills, Palm, Harbor, Town 'N' Country, New Port Richey, Tarpon Springs, Land O' Lakes, Wesley Chapel