3 steps to avoid getting financially burned after a house fire.
Follow these 3 crucial steps to protect yourself from getting financially burned after a house fire.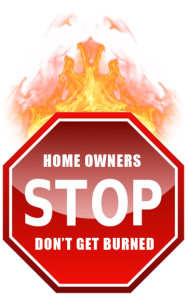 1. Except for emergency work, do not sign any contracts for repairs in the first 48 hours.
Give yourself time for your head to clear and time to read and understand what you are signing. Many homeowners in your position have trusted the sales person that came out to their home and have not understood what they were signing only to regret it later. Afterall, you could end up owing up to 20% of the total amount of your claim for canceling what you have signed. If your loss is worth $200,000.00 then that is a $40,000.00 cancellation fee.
2. Don't let anyone take your belongings from your home to start cleaning until you have spoken to your insurance adjuster.
Disturbing the fire scene can cause problems when determining the cause of loss and if there is a disagreement on pricing or cancellation fees being charged, they could hold your items until the dispute is resolved. The exceptions to this are, A) emergency cleaning of clothing via the dry cleaners so you have something to wear, and B) valuables and firearms should be removed, but other contents usually do not need to be removed immediately.
3. Only hire a company with experience in fire damage restoration.
Only hire an experienced fire damage restoration company that will guarantee in writing that they will not charge more than your insurance company will pay to help you with securing your poroperty with board up and any other services needed. Otherwise you could end up owing the difference!
RestoreALL will give you this guarantee in writing as well as offer helpful advice, work with your insurance company, offer dry cleaning, aid with finding living arrangements and provide emergency contact numbers to aid you.
We are always here to help. If you would like a free consultation
then call or email us today.
813.882.4921 | 888.969.2379
Serving:
Tampa, Tampa Bay, St. Petersburg, Clearwater, Lakeland, Zephyrhills, Palm, Harbor, Town 'N' Country, New Port Richey, Tarpon Springs, Land O' Lakes, Wesley Chapel